When people talk about marble, they usually think of something precious and unattainable. Churches, ancient temples, and palaces of aristocracy do not seem to have much to do with home environments.
Interior designers do not think so and have made the marble look one of the most celebrated styles in recent years. Modernity, beauty, brightness, and functionality come together in a perfect combination, creating unique and refined atmospheres.
How does porcelain stoneware fit into all this?
Keep reading the article to find out.
Marble or porcelain stoneware?
Marble is a solid and majestic material that can embellish any room. Despite its many qualities, it is not easy to include it as a cladding inside a house. It is a very decorative element, suitable for artistic works, but it does not optimize a heavily used space that is subjected to frequent external pressures.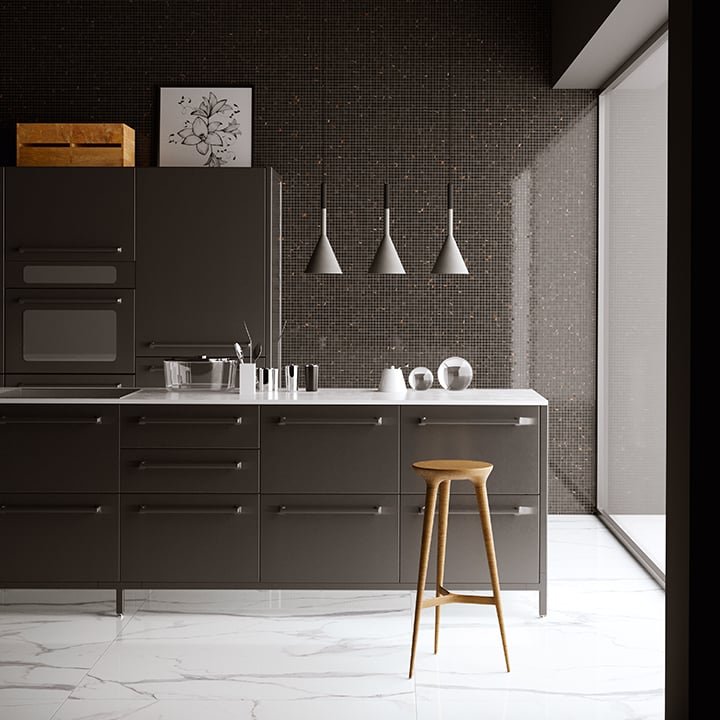 Marmi Pregiati - Check out the collection
A kitchen with a marble floor or a bathroom tiled with this material is surely a delight to look at, but smoke, heat, scratches, liquids, moisture, and cleaning products could easily damage the surface.
For this reason, interior designers are increasingly choosing marble-look porcelain stoneware to create refined and durable settings.
Why prefer porcelain stoneware to marble? There are many reasons, let's discover the most important ones
First of all, porcelain stoneware is less expensive. Its price makes it possible for anyone to apply the marble look to a floor, wall, or any home environment without difficulty.

Secondly, this material is particularly versatile, and thanks to new technologies, it looks virtually identical to real marble. It can come in many shapes and colors, depending on the owner's taste and the designer's idea.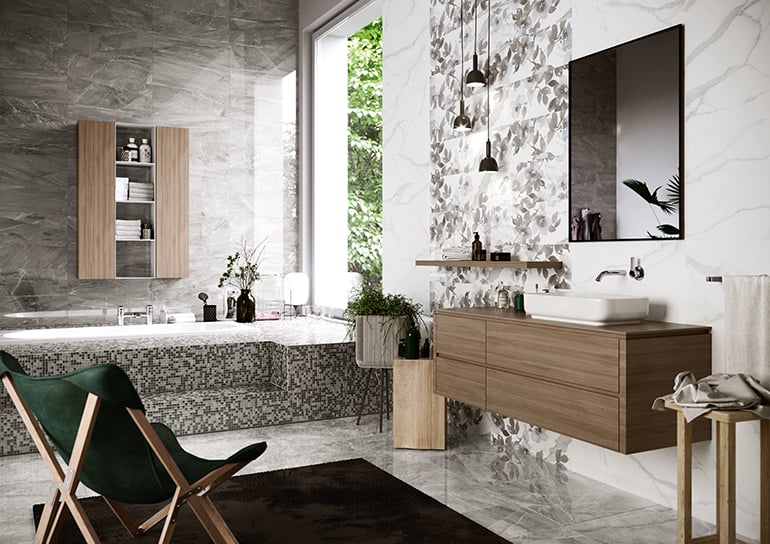 Marble Chic - Check out the collection
Then there's its functionality: porcelain stoneware offers an aesthetic quality equal to marble while having characteristics that make it perfect for a home environment. This material is easy to clean, hygienic, versatile, non-slip, and, most importantly, can easily stand people walking on it.
All these factors contribute to making it an ideal material for cladding bathrooms, kitchens, living rooms and bedrooms.
Herberia proposals
Marble-look porcelain stoneware is the star of several Herberia collections that aim to renew home spaces, making them bright and beautiful yet practical.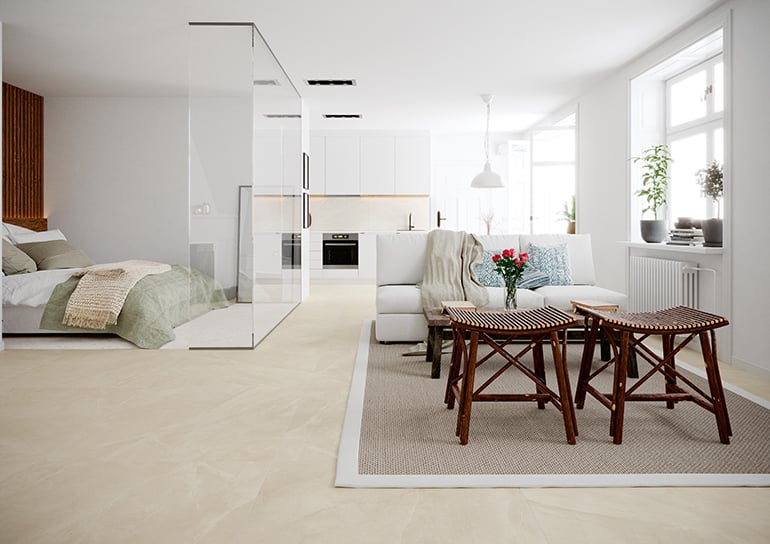 Pulpis - Check out the collection
Let the understated elegance of the Marmi Pregiati and Pulpis collections or the refined splendor of the Marble Chic environments win you over and give your rooms a touch of timeless elegance.
Discover all the proposals from Herberia by browsing the Interior Style Marble e-book and choose porcelain stoneware to add value to your home